Monday, 20th February 2017
STOPIA 2006 (as amended 2017) and TOPIA 2006 (as amended 2017) – 2017 amendments
The International Group has recently issued amended versions of the Small Tanker Oil Pollution Indemnification Agreement (STOPIA) and the Tanker Oil Pollution Indemnification Agreement (TOPIA).
The two Agreements were originally agreed in 2006 to reflect the desire of shipowner entered Members in International Group Clubs to ensure the continuing success of the international oil pollution compensation regime. More particularly, with the 2003 Supplementary Fund Protocol having been recently introduced at that time, there was a desire to ensure that the costs of responding to spills of persistent oil from tankers should be more equitably borne by shipowners and the receivers of oil.
STOPIA 2006 provides for shipowners to make payments to the 1992 Fund which are designed to adjust the financial effect of the limitation of liability provisions contained in the 1992 International Convention on Civil Liability for Oil Pollution Damage (1992 CLC) for spills from tankers of less than 29,548 GT. TOPIA 2006 provides for shipowners to indemnify the Supplementary Fund for 50% of the compensation it pays under the 2003 Supplementary Fund Protocol for pollution damage caused by tankers in States Party to the Protocol.
As part of a recent review of the Agreements, changes were agreed that would address both the introduction of future sanctions legislation and the time period and operation of future reviews.
The amended Agreements have been re-titled STOPIA 2006 (as amended 2017) and TOPIA 2006 (as amended 2017).
Download the full document: Stopia and Topia agreement 2017 (pdf)
31 May 2023
In this short video Alex McCooke, Chair of the International Group's Education Committee and Annie Stow, Chair of the Education Outreach Working Group, highlight the impact of the work undertaken by the Education Committee.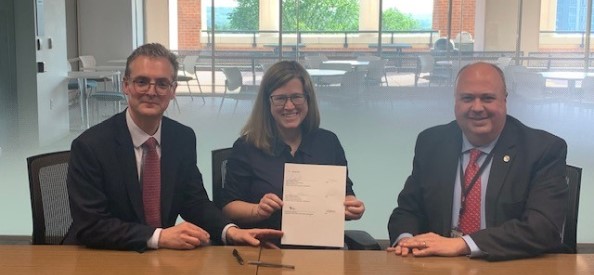 17 May 2023
The International Group recently signed an updated Memorandum of Understanding (MoU) with the US National Oceanic and Atmospheric Administration (NOAA) in Washington DC.