Wednesday, 1st June 2022
P&IQ Scholarship winners – congratulations!
The International Group of P&I Clubs and our Education Committee are pleased to announce the winners of the 2022 P&IQ Scholarship Programme.
Darius Aga, a former Chief Engineer from Mumbai and Joomi Park, a P&I Claims Handler from Singapore were both selected to receive a scholarship package worth £3,300 from the International Group's Education Committee. Both candidates are the first ever applicants to receive this scholarship, which was first opened for applications in late 2021.
Darius Aga
After reaching the rank of Chief Engineer, Darius moved ashore in 2019. He is currently working on marine, cargo, container and machinery surveys in India. He also holds a Chartered Engineer qualification from The Institution of Engineers (India). He has over 13 years' experience sailing aboard chemical and oil tankers, which has served him well in the maritime industry.
Joomi Park
Joomi completed her law degree in 2003 and joined Korea Line Corporation. She handled various types of P&I and FD&D claims for eight years. She then moved to the insurance and claims team in Hanjin Shipping as an insurance claims handler and dealt with insurance renewals for containers, third party logistics and terminal property and liability policies. After four years, she left Hanjin and moved to the marine team at Chubb where she underwrote marine risks for four years.
Both Joomi and Darius really impressed the scholarship panel with their applications. Through their letters, CVs and recommendations, they were really able to demonstrate their level of enthusiasm for undertaking the programme and how they planned to use it to assist them with their careers in future.
P&IQ Scholarship applications for the 2023 year will open in the autumn of 2022. Further details will be released later in the year.
Group Chair of the Education Committee– Alex McCooke, states:
"We are delighted that Darius Aga and Joomi Park have accepted the International Group's offer of a Scholarship for them to study the P&IQ course. In our inaugural year for these scholarships, we were blown away by the quality of candidates applying worldwide. Our successful applicants are both excellent candidates and have real value to deliver to the industry in future. Through the award of these scholarships, we hope to retain and build on their skills and experience for the wider industry benefit. We are looking forward to our engagement with both candidates and the assistance that we can provide as they both undertake the P&IQ qualification."
31 May 2023
In this short video Alex McCooke, Chair of the International Group's Education Committee and Annie Stow, Chair of the Education Outreach Working Group, highlight the impact of the work undertaken by the Education Committee.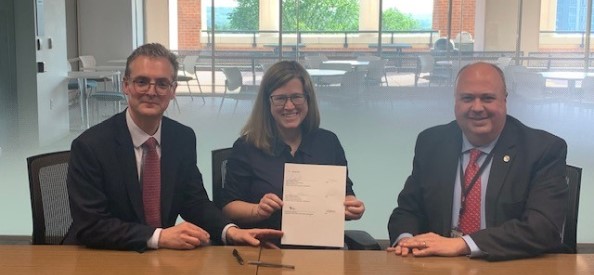 17 May 2023
The International Group recently signed an updated Memorandum of Understanding (MoU) with the US National Oceanic and Atmospheric Administration (NOAA) in Washington DC.